Mahama's date of birth wins cash for Kumasi lotto players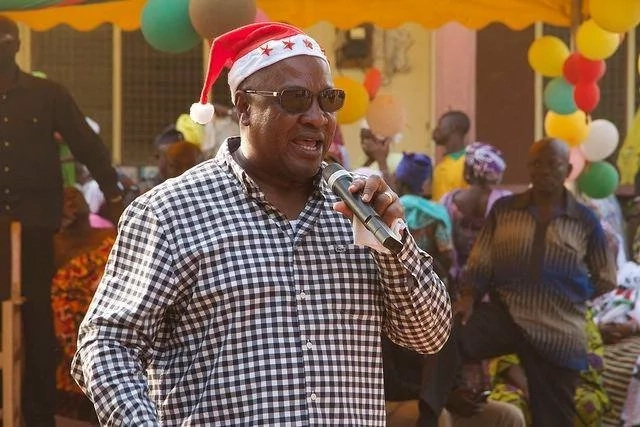 Some residents of Kumasi look forward to a bigger fortune in the National Weekly Lotto with 'locked up' numbers linked with former President Mahama.
Over the weekend lotto stakers at Moshie Zongo and other communities won massively, using the former President's birth year, 1958.
Luv FM's Kwasi Debrah went to town to find the euphoria surrounding the win, and anticipation for the next draw.
"If you don't have money, you don't have a say, if not for the lottery my daughter who has gotten nursing training admission, would've gotten pregnant," overjoyed charcoal seller, Akua Laariba, expressed.
Her burden she said, has been banished by two 'magic' numbers, 19 and 58.
"When John Mahama came to Moshi Zongo, I went there and it was there [and] we were told of the year he was born and so we decided to stake it.
"I staked with 10 cedis and won 2,000 cedis. I've gone for another charcoal consignment and deposited 1,000 cedis in bank to cater for my daughter's education," she added.
Laariba is not the only celebrant. Ayishetu, a resident of Dekyemso who also heard a conversation about the number, decided to stake GHS5.
"I was at the store and I heard of it. I had to look for a secluded place to stake. I got 1,000 cedis," she said with excitement.
Krofrom-based Alfred is among those who won the least amount of 200 cedis. "After we returned from the rally, I staked one cedi," he said.
The craze reportedly started from Barekese.
A mentally unstable man is said to have encouraged people, during former President Mahama's visit, to stake lotto with his vehicle registration numbers.
Lotto seller, Kwame Bekoe, recounts several attempts he made on hearing of the Barekese incident.
"Since I missed the registration plate numbers I had to fall on the birth year. I staked [and] lost 30 cedis each on Thursday and Friday. Finally, I won on Saturday. Some other friends also won. I think he is a lucky man."
Now, people like Bekoe believe there are two more numbers locked up in the lottery draw machine, the former President's age, 60 and his birth date, 29. Some even add the month 11.
Published by GWS Online GH : 2018-12-07
More News
Do you have News to share? Simply email us.
News Archive - Recent Articles